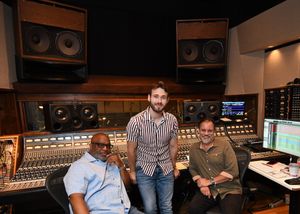 October 17, 2022
At the famous studio, United Recording in Los Angeles, California, I had the privilege of producing three songs on the band, Luke Carlsen & The Fresh Rhythm. The recording session was amazing. What a pleasure to be working with recording engineer, Steve Genewick. He captured an amazing sound in this historic studio. Thanks to Luke, The Fresh Rhythm Band, Michael Seaman (Band Arranger-Keyboardist), Steve G, the United Recording crew, Saul Perez (my right-hand man), and a host of others for making this a seamless and truly enjoyable experience.
I met Luke and the band about a year ago during their show at the supper club in Los Angeles, Vibrato. As a matter of fact, they will be performing at Vibrato on December 3rd.
Their project will be released sometime early next year, but in the meantime please enjoy some of the photos from the recording session. Also, if you want to find out more about Luke Carlsen please be sure to check out his website.