About Claytoven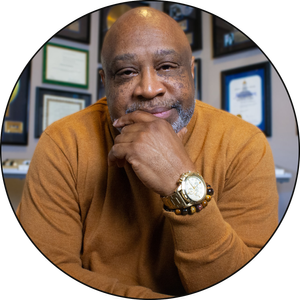 Serendipity gave Claytoven Richardson both his name and a jump-start to a career as a top session singer. But his good fortune had started years earlier, in the form of music education.
Although he grew up in a tough, East Oakland, California neighborhood, Claytoven's shaping forces were positive. Instead of hanging out on the streets in high school, Claytoven toured Europe with one of the premier choirs of that time, Phil Reeder's Castlemont High chorus, The Castleers. "While in that group, it was my first time leaving the country and learning that the world was bigger than my little neighborhood," says Claytoven. Instead of getting into trouble in high school, he studied clarinet and saxophone at the San Francisco Conservatory of Music and entered UC Berkeley's Young Musicians Program (YMP) for gifted, "at-risk" youngsters. YMP instructor Bill Bell became "like my second father", says Claytoven. "He taught me arranging and how to score compositions. I learned music just from basically being part of his family."
Thanks to those instructors and many others, Claytoven went to the University of Michigan on a full scholarship as an oboe principle. It was during one of his school vacations that he acquired a name that neatly described the direction his life was taking. Childhood friend (and music publishing business partner), Larry Batiste accidentally fused Claytoven's given name, Clayton, with that of another composer, and out came "Claytoven." The impressive name stuck, and its owner determined to work hard to live up to it.
Claytoven's singing career was also unintentional. After college, he played sax with and co-produced the group Bill Summers and Summers Heat. Summers overheard Claytoven singing reference vocals to get the sense of a song, and then asked Claytoven to perform lead vocals. He has been in demand as a session singer ever since, singing background vocals on countless gold and platinum recordings featuring Kenny G., Michael Bolton, Elton John, Peabo Bryson, New Kids on the Block, Ricki Martin, Whitney Houston, Mariah Carey, Jennifer Lopez, Aretha Franklin, Natalie Cole, and many others. His work on the number 1 song for Celine Dion, My Heart Will Go On (also the title track for the Titanic soundtrack) won him Grammy recognition in 1999.
In 1994, Claytoven started Claytoven Music Entertainment to facilitate managing all of his music business endeavors, some of which includes session work, music production, CD artwork designs, and website designs. Claytoven also co-manages a production studio in Oakland where he devotes himself to writing catchy, contemporary compositions, which have been recorded by Lisa Fischer, Shanice Wilson, Al Jarreau, Patti Austin, and Young Jeezy among others. Currently, he is working with talented and innovative artists that are leading the next evolution in great music. He is also soon releasing his first solo project entitled, The Ex's. It's a retrospective journey into some of the relationships that have influenced his life. It's also a unique blend of the genres that have been the most prominent in his life...R&B and Jazz.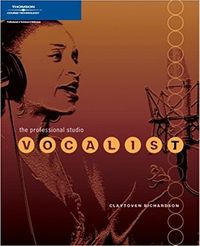 But as busy as he is, Claytoven always makes time for educating others. "I was blessed as a kid," Claytoven says. "Because of the many teachers who came into my life while still in high school, I got to talk with Duke Ellington and ask questions about his music. I got to perform with Max Roach and Abbey Lincoln. I feel it is my responsibility to pass on my knowledge to young musicians just as it was passed on to me." And with that as his mission, Claytoven has stepped into the role of author by taking his years of experience and sharing them in the second edition of his book entitled, The Professional Studio Vocalist. The goal of the book is to bridge the gap between the academic and professional music worlds by providing aspiring singers with the knowledge necessary to pursue a career as a professional recording vocalist.Claytoven also teaches this subject and other professional music courses at San Francisco State University, in their Music Recording Industry Department.
In November of 2022, Claytoven ended his 10 year tenure as a teacher and  the Co-Director of an incredible arts facility, the Digital Arts and Culinary Academy (now the East Oakland Arts Center) in Oakland, California. He is now the Center Director of the Oakland Parks, Recreation, and Youth Development (OPRYD) facility, Arroyo Viejo Recreation Center. His mission, just as it was at the East Oakland Art Center, is to help youth, teens, and adults excel and create a better community for themselves and others. His ultimate goal is to help bring all types of enrichment into the amazing community in which he grew up.
(Downloadable versions of Claytoven's Résumé, Discography, Biographies, and Photos are also available upon request. Please use the form on the Contact page.)